Original prints
Each picture is numbered, referenced, and signed by the artist. The prints are edited in a limited quantity, with or without a white frame, and is accompanied with a certificate of origin. The digigraphie is a label of excellence that guarantees a sustainability in the time, of 100 years and more, thanks to the quality and the resistance of the pigmentary inks UltraChrome.
Digigraphie on paper
It is a thick and resistant paper of type drawing (300 grams).
The art prints are just available in Digigraphie on the "Arches aquarelle, Epson traditional barite, Epson Hot press bright" paper, with or without a white frame,  in your choice at the time of the order.
Paper Arches aquarelle
It is a paper 100 % cotton, without acid to avoid any degradation of the paper. Excellent quality of impression which gives an aspect watercolor, the depiction of the image is perfectly respected.
Paper Epson Hot press bright
Paper of art which looks like the watercolor, but without aspirité. Blacks' tints which allow to highlight the image in detail.
Traditional baryté paper
A paper photo more brillant than precedents, depiction of the image is equivalent to those of he former (old) argentic editions.

The numbered and signed work of art is a unique one, an original print supplied with a certificate of authenticity. This print can be not be sold more than 30 copies, any confused supports (paper, painting...). The image will be removed from the sale once the 30 editions of art will be sold. You must not confuse with the Fine-Art prints, that are not limited in the printing, and don't have a certificate of authenticity. The images that we find in the sale of selection of print-Art cannot be sold in the section of Edition Fine-Art, and the same for the other way.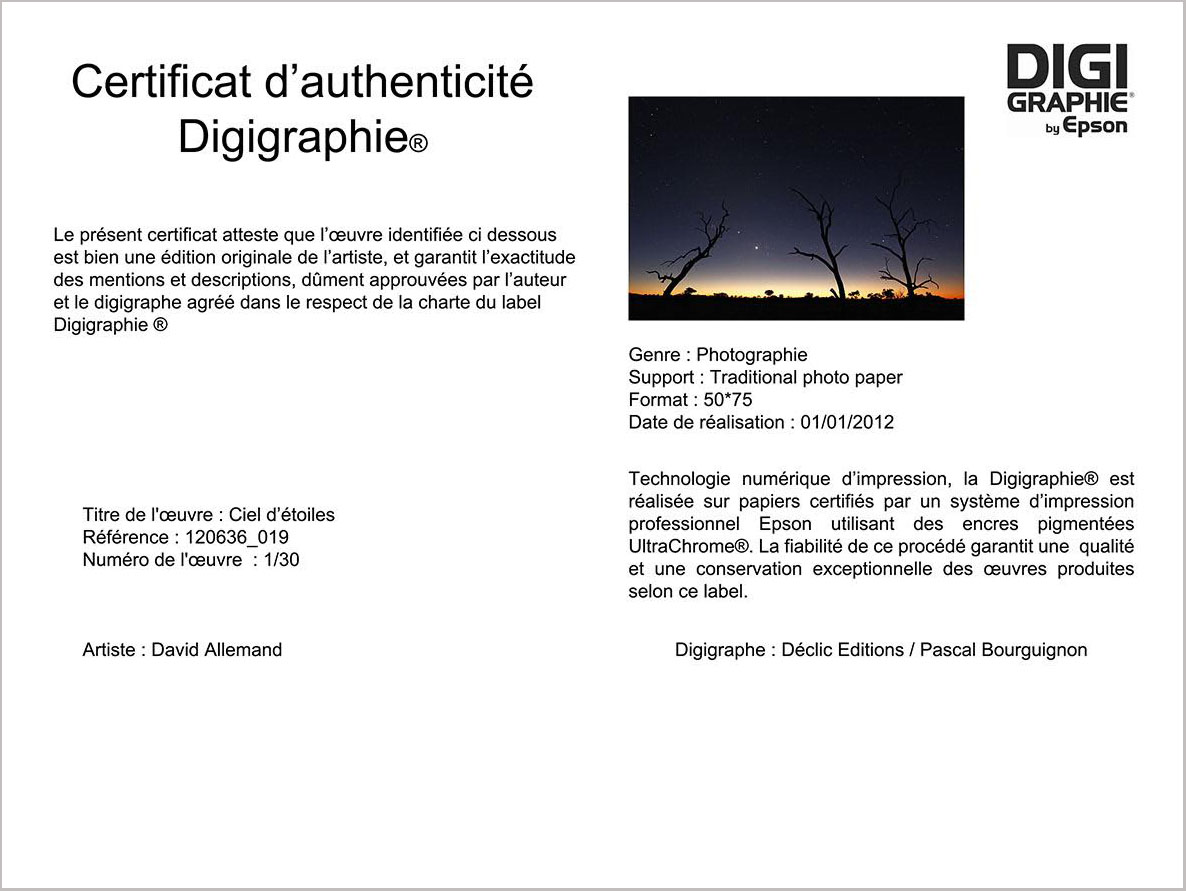 Original prints  Rates
| Size | Without dibond |  Dibond  (3mm) | Number of copies |
| --- | --- | --- | --- |
| 30 x 45 cm | 178 € | 248 € | 9 |
| 40 x 60 cm | 298 € | 378 € | 7 |
| 50 x 75 cm | 468 € | 558 € | 6 |
| 60 x 90 cm | 638 € | 778 € | 5 |
| 80 x 120 cm | 928 € | 1148 € | 3 |
To
enhance
your prints
on dibond,
we present different
framing
and
finishing products.
See
here
the
different products
and their rates.
Please contact us
for these products
that can not be
purchased online.